FLORIDABLANCA ENVIRO CORPORATION (FEC), a duly registered company in Securities and Exchange Commission (SEC) on 06th December 2017, is a subsidiary of BERJAYA PHILIPPINES, INC. The Company's ultimate parent Berjaya Corporation Berhadof Malaysia, is mindful that its business sustainability is linked to the sustainability of the environment, thus since 2005,it has successfully developed world class and State-of-the-Art sanitary landfill projects in Malaysia and China. Malaysia's Bukit Tagar Enviro Park – one of the most known sanitary landfills in Asia is being operated by FECs affiliate Berjaya EnviroParks Sdn Bhd. It has gained a number of local and foreign recognitions and awards for its many achievements in its outstanding standards of operations and innovations for more than a decade.
In 2018, FLORIDABLANCA ENVIRO CORPORATION started its foray in waste management through the development of an engineered sanitary landfill facility in the Philippines – FLORIDABLANCA ENVIRO PARK PROJECT – a regional integrated waste treatment facility in the Province of Pampanga. The sanitary landfill facility designed to receive 10 million cubic metres wastes is nested on a 91-hectare property in Brgy. Pabanlag, Floridablanca. With the concept of Design-Build-Operate-Own and Invest (DBOOI), the facility is intended to cater and to provide the Province of Pampanga a long-term solution for waste disposal and will be fully operational by 2023.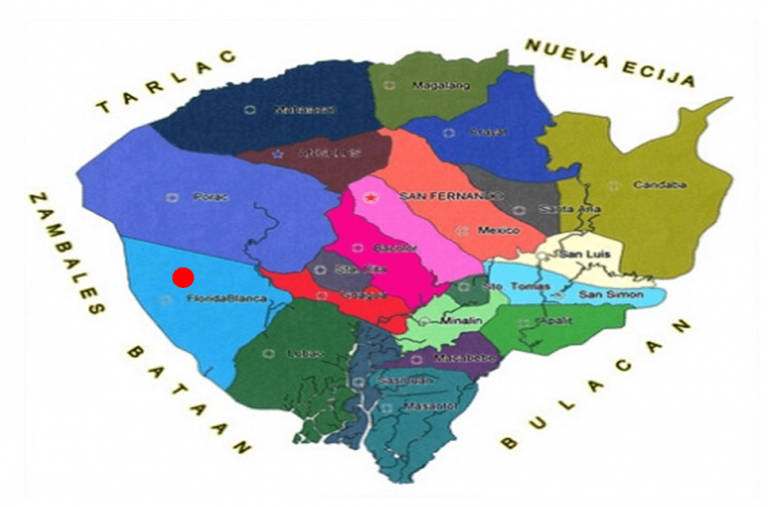 Located in Barangay Pabanlag, Floridablanca Pampanga, the FLORIDABLANCA ENVIRO PARK PROJECT is the first level IV sanitary landfill in the province. It is strategically bounded on the north by Porac, by Guagua and Lubao on the east, by Lubao and Dinalupihan on the South and San Marcelino on the West.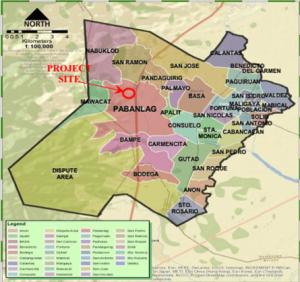 FLORIDABLANCA ENVIRO PARK PROJECT is located approximately at + 10 km northwest of Floridablanca, + 400m west of Subic-Clark-Tarlac Expressway (SCTEX). With the current access through the Pabanlag road traversing the Pabanlag-Apalit road, the Angeles-Porac Floridablanca-Dinalupihan road and Floridablancaaccess road from SCTEX. FLORIDABLANCA ENVIRO CORPORATION is proposing to have a purpose built-in interchange and exit from SCTEX, for easier access without passing the urban roadways.
FLORIDABLANCA ENVIRO PARK PROJECT includes the following buildings and facilities:
Administration Office
Waste Sorting Facility
Leachate Holding Pond
Leachate Pond
Equalization Pond
Workshop Area
Storm Water Detention Pond
Landfill Gas and Electrical Facility
Guard House
Weigh bridge
Workshop area
SBR
Landfill/Cell Area
To ensure compliance with the strictest standards of the government agencies with the utmost priority in safeguarding the environment, surrounding communities, properties and other stakeholders during the operational process, FLORIDABLANCA ENVIRO PARK PROJECT adopts BATNEEC (Best Available Technology Not Entailing Excessive Cost). Patterned from the existing BERJAYA sanitary landfill projects in Malaysia (Bukit Tagar Enviro Park) and China (Foshan Sanitary Landfill), it is designed as a fully engineered level IV sanitary landfill with full High Density Polyethelyne (HPDE) geomembrane liner, advanced leachate collection and treatment systems.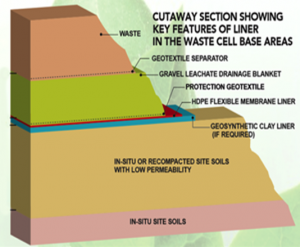 LANDFILL BASELINER – The landfill will be using High Density Polyethylene (HDPE) geomembrane liner. HDPE geomembrane is used in wide range of containment applications. Providing excellent durability and chemical resistance properties, HDPE has the ageing resistance from the intense stresses of weathers and is reliable in exposed applications.
HDPE will be used to prevent the leachate from seeping into the ground, thus preventing contamination of groundwater. Moreover, it will help in diverting the leachate from the rainwater.
LANDFILL COLLECTION SYSTEM – The generated leachate will be collected and directed to the collecting pond for treatment. For this purpose, HDPE pipes will be used. Polyethylene with its strong, tough and durable properties, HDPE piping system has been tested and proven effective for above ground, surface, buried, slip lined and floating applications.
LEACHATE MANAGEMENT & TREATMENT PLANT – Leachate is generated from the moisture of waste itself. It can also arise as rainwater seeps through the piles of wastes. To ensure that the generated leachate will not affect the nearby properties/communities, and as being a crucial part of landfill operation, an effective Leachate Management Plan is in place. A constant monitoring of leachate production, storage and treatment rate ensuring to determine current and future storage and treatment requirements. It has 3 leachate holding ponds for storage and pre-treatment of raw leachate. A large holding capacity will provide a fail-safe system, allowing excess leachate storage shall leachate production may exceed the treatment rate especially in wet season.

A state-of-the-art Leachate Treatment Plant (LTP) facility is designed to ensure all collected leachate will be treated properly. The LTP is based primarily on biological reaction with a series of chemical dosing to achieve the required leachate treatment standards. It is equipped with sequential batch reactor (SBR) lagoons, aerators, chemical dosing system, balancing tanks, sludge thickener and dissolved air floatation plant.
FLORIDABLANCA ENVIRO PARK PROJECT's operation is to be handled by experienced team with in-depth knowledge in sanitary landfill operation – equipped with full range of trucks, compactors and earth moving plants at its disposal. Specialized compactors are used in the application of daily earth cover to maintain hygiene, prevent odor and achieve maximum air capacity. The whole operation features 24-hour security patrols and screening of all incoming waste trucks at a designated security check point. A designated tipping plat forms for waste disposal are planned and executed on a daily basis.
A "ZERO-DISCHARGE POLICY" on treated effluent will be implemented. The treated effluent, which has reached DENR standards, will be used for irrigation instead of discharging into open water courses. This allows the treated effluent to be absorbed through evapotranspiration and soil moisture retention, promoting optimum protection to the environment.
FLORIDABLANCA ENVIRO PARK PROJECT is a close collaboration between experienced Malaysian and Filipino engineers and specialists from project conceptualization to design stage to construction and operation with the commitment and expertise of providing a world class standard sanitary landfill for the Filipino people.