Believing that nothing is impossible if we stand together hand in hand is the common denominator of Berjaya Group Philippines and Gawad Kalinga. With Gawad Kalinga's aim to end poverty and with Berjaya Group's unwavering support, a new beginning has started again for the lives of the Mamanwa tribe of Agusan Del Norte.
On a recent turn over ceremony held on November 15, 2014 in Brgy. Mahayahay, Kitcharao, Agusan Del Norte, 30 houses were given to 30 families of the Mamanwa tribe. This memorable event was lead by Berjaya Group's country head Paul Soo, Municipal Mayor Hon. Aristotle Montante, GK Area Coordinator for Northeastern Mindanao Dr. Victor Ozarraga and the Kapitbahayan President and Tribal Leader Datu Embat Dayong.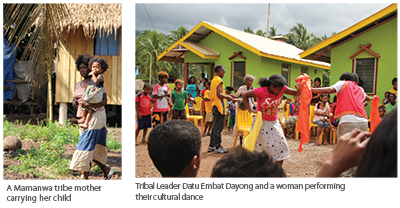 "We're here, present in every turn over ceremony for us to actually impart what we see here to others, that they can also help, because help is needed by many of our kababayans. And with that, Gawad Kalinga will always be our partner in helping our kababayans achieve a better future and a better life", says Berjaya Group Country Head Paul Soo in his speech. "We are our company's representatives, and what keeps us going and satisfied are the smiles and laughters that we witness on our kapitbahayan's faces each time we visit a Berjaya – GK Village", says Rodney Mallari from Philippine Gaming Management Corporation during his speech. Datu Embat Dayong, the tribal leader, also gave his thanks to the Berjaya Group and Gawad Kalinga for the opportunity of having a decent home to live in with their families.