Reaching out to our kababayans will never be difficult with Berjaya Group Philippines and Gawad Kalinga as partners.
In the recent turn over ceremony of 30 houses held last May 24, 2014, nothing has ever been more visible than unity. With the municipality name "Esperanza", which means "hope", its people doesn't come less of being what it truly reflects. People nurture and build their daily lives by the principles of faith, hope, unity and love. Along with these principles are responsibilities of cultivating a good community that was once, living by its shadows.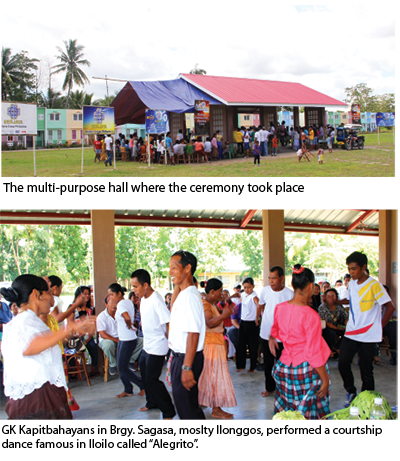 Present in the ceremonial turn over of 30 houses donated by Berjaya Group in Brgy. Sagasa, Esperanza, Sultan Kudarat were Berjaya Group Philippines country head Paul Soo, Berjaya Group Director Tan Eng Hwa, Berjaya Auto Philippines CEO Steven Tan, Friendster Philippines CEO Iannis Hanen, Berjaya Manila Hotel Asst. Finance Controller Azhar Mahmood, Gawad Kalinga Executive Director Luis Oquinena, Municipal Mayor Helen Latog, Municipal Vice Mayor Felix Plotena, Brgy. Sagasa Chairwoman Lourdes Panghulan, GK Sagasa Project Director Renato Sambrano and GK Area Coordinator for South Central Mindanao Manuel Grino.
The Berjaya Group were greeted with the widest smiles from the kapitbahayans and were also given hand-woven hats made of coconut leaves. "GK is happy to be partners with Berjaya in reaching out to families and in continuing this special kind of friendship towards one goal", said Luis Oquinena. "We're very pleased to see this village turn into what GK and Berjaya was hoping in to be. We're very happy to see people here, striving for a better community and a better life", said Paul Soo.