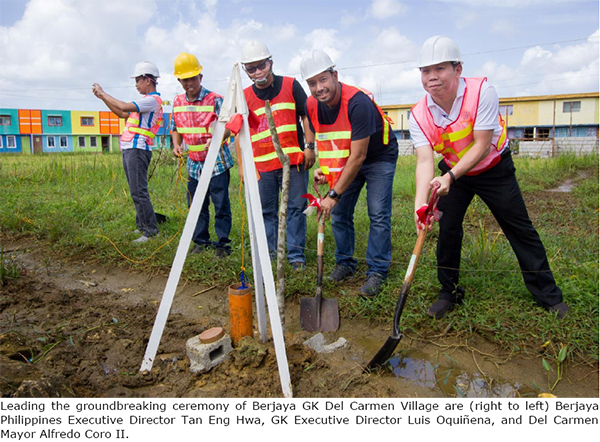 In 2013 the first 30 houses donated by Berjaya Philippines was built in Del Carmen and the team of Berjaya Philippines missed the opportunity to see the beauty of Siargao and its people but not this time.
Siargao is labeled as the "surfing capital" of the Philippines, a popular destination of wave surfers located in the province of Surigao del Norte, Caraga region in Mindanao.
After the original schedule was canceled due to inclement weather there"s no disturbance this time to proceed with the event as Berjaya Group Philippines Executive Director Mr. Tan Eng Hwa lead the groundbreaking of additional 30 houses to be built in the same area, along with Del Carmen Mayor Alfredo Coro II, GK Executive Director Luis Oquiñena, and officers of Berjaya Philippines.
In his speech Mr. Tan said, "A couple of years back Berjaya Philippines coursed funding to GK to enable them to build 30 houses here in Del Carmen. Now we are back to build additional 30 houses. We came here to fulfill the promise of our founder, Tan Sri Dato Seri Vincent Tan."
Mr. Tan Eng Hwa is referring to the recent successful inauguration of the Berjaya Garden Restaurant and Culinary Center in GK Farm, Angat, Bulacan where in the said event Berjaya founder Tan Sri Dato" Seri Vincent Tan pledged to donate 5,000 houses from the original 3,000 that were first committed.
For his part, Mayor Coro did not hide his emotions saying that it is his last term as the town Mayor and will forever be grateful for the support given by Berjaya and Gawad Kalinga to his constituents.
The groundbreaking and capsule-laying ceremonies preceded the program that was attended by GK leaders, local government officials and staff, and the beneficiaries of the housing program.