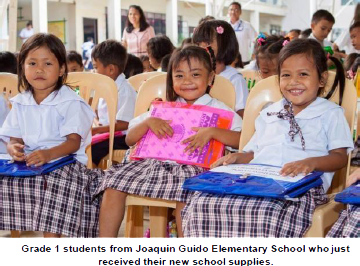 A total of 659 students of Joaquin Guido Elementary School in Angono, Rizal were cheered by BERJAYA Philippines' subsidiary company Philippine Gaming Management Corporation (PGMC) on 29 June 2016, headed by its Vice President, Mr. Tan Eng Hwa.
For families living in poverty, basic needs like food and shelter comes first than school supplies. It is for this reason that among the many Corporate Social Responsibility (CSR) endeavors of PGMC it has chosen to donate school supplies to these students belonging to the list of families under the Pantawid Pamilyang Pilipino Program (4 P's). It is a conditional cash transfer program of the Philippine government which aims to eradicate extreme poverty by investing in health and education.
"Berjaya Philippines-PGMC is happy to come to your school today in donating these school supplies which we hope will help you in your studies" said Mr. Tan during the program. The students from Kindergarten to Grade 6 received sets of notebooks, pad papers, pencils, ball pens, crayons and rulers to aid them in their studies.
The donation is very timely as it coincided with the start of classes in public schools in the Philippines. In gratitude, the school's Principal Ms. Reyna Nasol, presented to Mr. Tan a certificate of recognition to PGMC for its invaluable contribution for the welfare of their students.